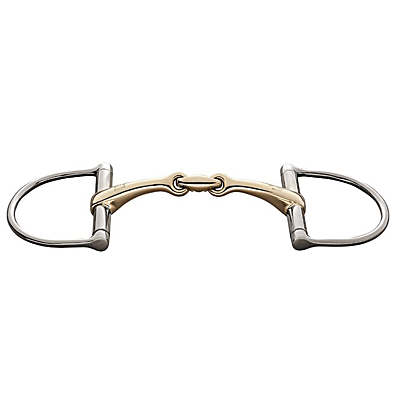 Sprenger Dynamic RS D-Ring 14mm
Sprenger Dynamic RS D-Ring 14mm
Ergonomically formed, gentle to the horse's mouth
Dynamic RS bits stimulate the horse to accept the bit more easily
The ergonomically formed mouthpiece allows a rapid and balanced effect on the tongue
No pressure to the palate - Dynamic RS mouthpieces give even pressure on the entire tongue area
Gentle to mouth and tongue - Supports the contact to the corners of the mouth in an extremely effective way, keeping the horse on the bit
The link of the mouthpiece is turned to the front by 45° - This unique angle is the only way to get a true contact with the tongue. When a contact is taken the mouthpiece rolls smoothly over the horse's tongue and stimulates it in a gentle but effective way. Clearly defined aids can therefore be given through the reins without squeezing the tongue.
Totally dynamic
The ergonomically formed mouthpiece lies perfectly in the horse's mouth resulting in soft and even pressure on the entire tongue area, encouraging the horse to chew
Due to the curved joints the bit remains in the correct and central position on the tongue. The fine lozenge can direct gentle pressure pivotally onto the tongue. The bit encourages the confidence of the horse in the rider's hand and increases safety
The D-Rings prevent the bit from being pulled through the horse's mouth. It lies steadily on the tongue encouraging a positive contact with the bit and the rider's hand therefore giving confidence to sensitive horses. The mouthpiece directs gentle pivotal pressure onto the horse's entire tongue enabling precise rein aids. It is more direct compared to a loose ring snaffle
---
---
More from this collection