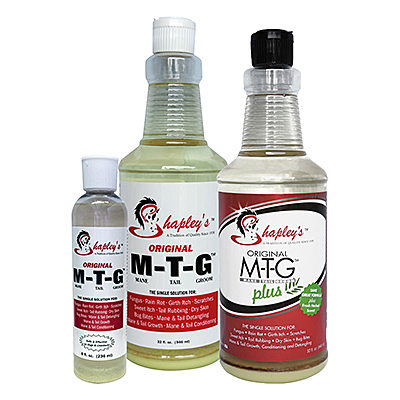 Shapley's Original M-T-G
Shapley's MTG promotes healthy skin; provides quick, effective relief from numerous skin ailments and a variety of bacterial and fungal skin problems, such as:
rain rot
scratches
girth itch
sweet itch
dry skin
bug bites
tail/mane rubbing
 Shapley's Original M-T-G is an easy-to-use, time-tested, veterinarian recommended solution to equine skin healing and hair growth, in a single bottle.
Original M-T-G is formulated to eliminate the causative agent creating the skin problem while conditioning the skin and hair around the damaged area. Creates a healthy environment for hair follicles, resulting in maximum growth (up to 3 inches in one month!); keeps length of hair shaft soft and pliable for minimum breakage. See visible hair growth in 3-5 days. Original M-T-G Plus provides the same great formula and proven results as Original M-T-G, but with fresh, herbal scent.
Apply directly to affected area; do not wash out. Oil-based; does not require washing or water for application. Ideal for cold weather. Safe and effective for dogs, too. For best results, follow up with Hi Shine Shampoo.

Made in the USA.
---
---
More from this collection