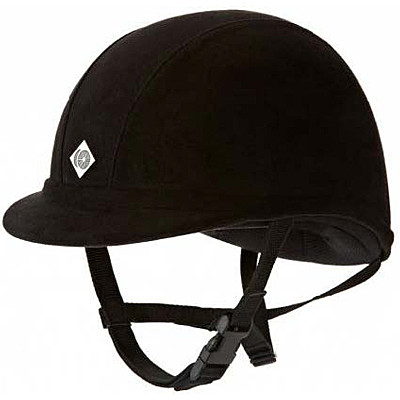 Charles Owen jR8 Helmet Black Matt
Charles Owen jR8 Helmet
Attractive Helmet
Economical Helmet
Low profile
Weather resistant microfiber suede
Adjustable nylon harness
Meets or exceeds required safety standards BSEN 1384
Certified SEI by ASTM F1163
Pony Club
Eventing
Hunter/Jumper
Hunting
The jR8 is an attractive and economical helmet that meets or exceeds required safety standards. Styled similarly to the more expensive Gr8, the low profile jR8 is covered in weather resistant microfiber suede and features an adjustable nylon harness.
Helmet Notice, Disclaimer, and Warning
All equestrian sports are inherently dangerous and involve the risk of serious injury or death.  Riders using this product ride at their own risk with full knowledge of the hazards and risks associated with their activities.  Helmet is designed for equestrian use only.  Helmet cannot offer complete protection from injury or death to riders in case of fall, collision, impact, loss of control or otherwise.  Helmets cannot protect areas of the head that are not covered.  Helmets offer no protection against injuries involving forces other than impact.  CAUTION: Helmets must fit well and all retention straps must be securely fastened.  Helmets are constructed so that the energy of an impact may be absorbed through partial destruction of the helmet.  Helmets that suffer an impact should be destroyed and replaced.  The protective qualities of helmets may be compromised by prior impact, age, use and many common substances.  Always follow the manufacturer's recommendations before applying cleaning agents, paints, or adhesives.  The Paddock, Inc. and Charles Owen disclaim any responsibility for injuries or death incurred while wearing any of these helmets offered for sale.  Representations regarding testing results, equipment ratings, product specifications, ASTM and/or SEI standards, and the adequacy of all such standards and designations are made solely by the product's manufacturer.  The Paddock, Inc. and Charles Owen do not warrant or confirm the representations of the manufacturer.  The paddock, Inc. and Charles Owen make no representation express or implied regarding the fitness of this product for any particular purpose nor the extent to which the product protects riders from injury or death.
---
---
More from this collection